Life in Cayman – 2016 so far
Well my year so far has been ever so busy! This island has so much to offer.
Here's a recap of what I've been up to in the Cayman Islands in 2016. Most of the events I've listed are annual, so this might give you some pointers for 2017!
New Year's Eve was spent with friends on Seven Mile beach. Luckily our friends have an apartment right next to Royal Palms (the main beach bar/club on island)…so rather than paying a lot of go into their "arena" we sat on the sand next door for free with beers and listened to the blaring music. We couldn't sit for long though, as we had to dodge many horizontal fireworks!!! It was madness how many people felt it was a good idea to set fireworks off in their bare hands. We ran into the (warm) sea for the countdown to New Year. What a way to start the 2016!
Taste of Cayman (January) – www.tasteofcayman.org It is well known that I love food and wine. All restaurants on island showcase their best dishes at this festival. There were some incredible fish dishes this year and I can still remember the taste of the salted caramel ice cream with a hard melted chocolate covering from the Marriott, which came close to winning the best desert category! Also Rod Stewart, Elton John and Tina Turner were there (in spirit and song if nothing else!).
Legends Tennis Championships at Camana Bay (February) – www.legendscayman.com What a great event this was. It wasn't widely advertised (like a lot of events in Cayman!) so we weren't expecting such an impressive turn-out and a surprise celeb appearance from Sir Richard Branson, who is no tennis player and a good sport! It was quite surreal to see Courier, Roddick, Kournikova, Philippoussis and Bahrami enjoying friendly (and often comic) games together.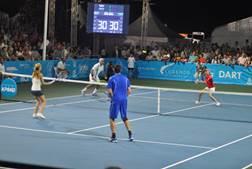 Red Sky at Night (February) – www.artscayman.org/cayfest A lovely arts, crafts, theatre, film, dance and music event – This is a great place to soak up some local culture and I always enjoy some amazing food here (jerk chicken, rice & beans and all things Caribbean)!
Kitefest Kaibo (March) – www.explorecayman.com/kaibo-kitefest-grand-cayman Very family friendly day out, based at one of my favourite places on island, Kaibo (around the corner from Starfish Point and just past Rum Point). We saw some weird, wonderful, colourful and animal shapes kites! This year was a particularly windy afternoon, so there were kite strings everywhere!
Ice on Ice (April) – www.cics.ky/index.php/Events/ice-on-ice-2016 Our company, Affinity Recruitment, actually sponsored this glitzy fundraiser at the Ritz Carlton, in support of the Cayman Islands Cancer Society. It was a good excuse to get dressed up and put our high heels on. There were casino tables set up and the opportunity to win real diamonds!! Each welcome cocktail had a plastic diamond in the bottom of the glass, and four lucky people had a square-shaped one which they could exchange for an actual diamond! I didn't win sadly, but other than that had a great team night out.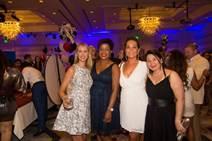 Batabano (May) – www.caymancarnival.com Cayman's carnival… What an experience this was!! I went along last year to watch as I wasn't entirely sure I fancied getting a glittery bikini on, but this year I went for it. It was such a fun day "on de road"! We were part of the Swanky group – there was soca….and whining!! Highly recommend anyone to take part!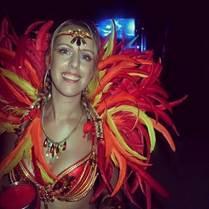 Other things I've enjoyed this year and would highly recommend to any newbies to the island:
– Locked Inn www.lockedinncayman.com
– Crystal Caves www.caymancrystalcaves.com
– Rooftop yoga (a weekly relaxing form of exercise with an amazing view of seven-mile beach!) caymansports.net/html/yoga.html
– Flyboarding (not available on island during the summer months) – A must-try!! www.swscayman.com
– A wonderful holiday to Honduras, staying at the Lodge at Pico Bonito. Glorious relaxation in the rainforest. Only 1 hour's flight from Cayman! www.picobonito.com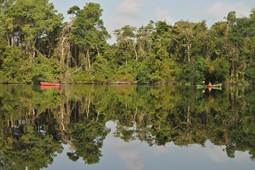 I have lots planned for the rest of this year so will let you know of my recommendations for the second half of the year!! Meanwhile, I would recommend taking a look at www.explorecayman.com and www.caymannewresident.com for calendars of events in Cayman.