Here at Affinity, we believe it's important to put a face to a name. Meet our team of specialists and learn a little about us!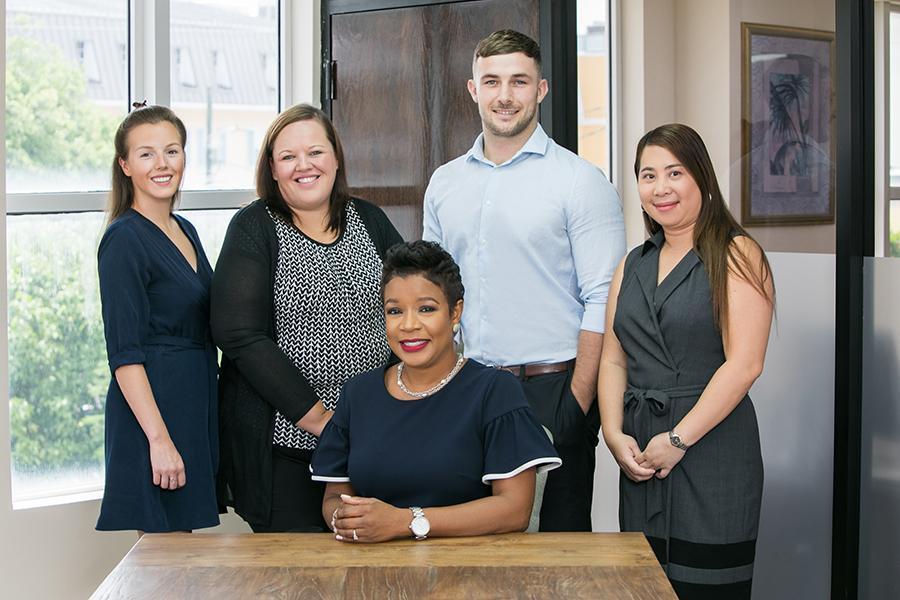 Affinity is a boutique recruitment agency located in the heart of the business district of George Town, Grand Cayman. Dedicated to providing quality recruitment solutions to our clients, we seek to offer tailored solutions for job seekers and employers. We offer a personalized and responsive service, making sure our clients are managed with efficiency and professionalism at all times.
Founded in 2003 by Caymanian, Michele Aubert, Affinity Recruitment has helped hundreds of job seekers secure employment and has assisted many employers in finding ideal candidates. We place candidates in both temporary and permanent roles. Our temporary staff group is a popular means to fill short-term staffing requirements or undertake a trial period for a potential permanent employee.Our passion for making the right match is showcased by our long-term and repeat client base, that encompasses a broad range of firms including public accounting, legal, trust, insurance and fund administration.
In addition to recruitment, Affinity provides corporate immigration and administrative support. Outsourcing is an excellent way of getting the job done professionally but keeping the costs low. Affinity works together with our clients to help provide solutions for their staffing needs, understanding that the key to our clients' success is getting it right the first time, especially when concerning the Immigration process. Immigration is an area that Affinity Recruitment excels in. We have a solid relationship with the Immigration Department and are current in all Immigration Law requirements, ensuring a smoother process for both client and candidate. Affinity also offers a payroll and administration service, providing a cost effective way to manage this aspect of the business without compromising on quality.
For candidates, Affinity's goal is to connect you to the right job opportunities in the Cayman Islands. Our success revolves around a highly disciplined and diligent recruitment strategy; we recruit the highest caliber of individuals with the finest expertise and skill sets. We also help guide candidates through the process of applying for a job and the immigration process if required. Many candidates worry about applying for a role from abroad – Affinity is seasoned at recruiting for roles remotely. Candidates can be rest assured that Affinity has an excellent success rate and fantastic local industry connections.
For both clients and candidates, Affinity Recruitment offers a candid and honest approach in our dealings. We listen to your needs and maintain a high level of service standards while working as a team. Affinity Recruitment is committed to providing both our clients and candidates with exceptional service and strive to be the best recruitment agency in the Cayman Islands. Helping you achieve your goals is at the heart of everything we do.